Border Wedding Invitations
Borders add a touch of elegance to wedding invitations and cards. Choose from, pearl, silver, gold, aqua, chocolate, etc.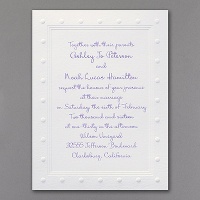 Surrounded by Dots
Feature your invitation wording surrounded by embossed polka dots! This fun, yet elegant invitation is just the right mix of both.
$104.90 per 100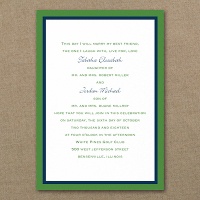 Bold Double Border
Show off your wedding colors in a big, bold way! Choose the colors of both borders on this wedding invitation to surround your wording with style.
$154.90 per 100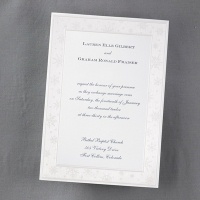 Pearlized Snowflake Border
Welcome your guests to a winter wonderland with this bright white invitation card featuring a pearl snowflake border.
$169.90 per 100
Ecru Embossed Triple Borders
This ecru invitation card features classic triple embossed borders that surround your wording.
$177.90 per 100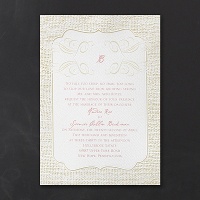 Burlap Border Invitation > Wedding Invitations Wedding
A burlap border design is shown on this ecru invitation.
$179.90 per 100
Ecru Lace
Love cascades upon this ecru invitation. The pearlized border enhances the invitation's beautiful size.
$187.90 per 100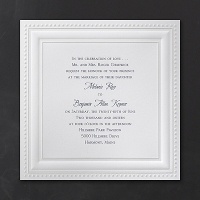 Bright White Squares
A bright white, square invitation card features pearlized straight-line borders around your wording with a square-dot design border outlining the outer edge.
$187.90 per 100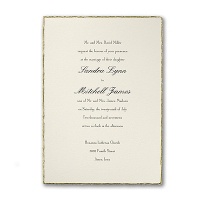 Deckled in Gold
This ecru invitation with golden deckled edges will announce any occasion beautifully.
$195.90 per 100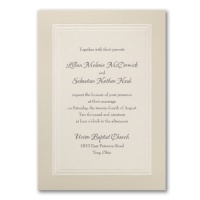 Beautiful Borders
Not one, not two, but three embossed borders highlight your big news. The outer border is in pearl foil to make this ecru wedding invitation glow.
$209.90 per 100