Save The Date Cards
Let your wedding guests know about your big day with plenty of notice. Send them save the date cards so they can pencil in your day well in advance.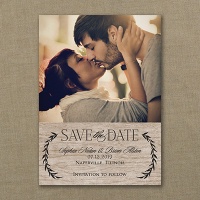 Leafy Natural
Announce your wedding date with natural elegance! The wood grain background and leaf garlands accent your photo on this petite save the date card.
$115.90 per 100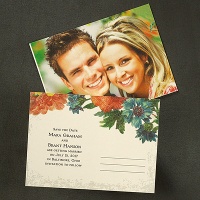 Rustic Garden Save the Date Postcard
Bright garden flowers are shown on this save the date postcard and features your photo.
$116.90 per 100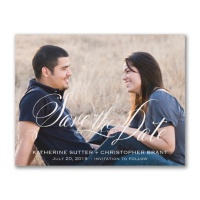 Romance
The love that you two share is forever, use this simple and romantic save the date to announce your everlasting love.
$124.90 per 100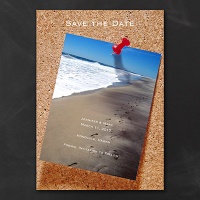 Tacked to Remember
This unique save the date announcement has a beach photo on a corkboard with a red tack, preparing your guests for a get-away wedding!
$124.90 per 100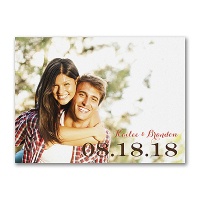 Big Date
Your wedding date stands out big and bold on this save the date card. The date highlights your photo on the front and your info is on the back. Choose your colors for a custom look.
$132.90 per 100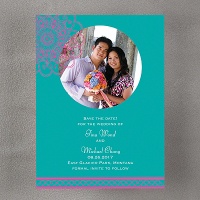 Bombay Beauty Save the Date
A teal and fuchsia designed card featuring a photo of the engaged couple.
$136.90 per 100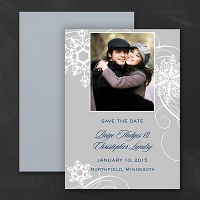 Spinning Snowfall Save the Date
A snowflake design along with your photo is shown on this save the date magnet.
$145.90 per 100
Photo Gallery
Your save the date info is positioned on the middle panel of this photo gallery save the date with a favorite photo on the panels above and below.
$149.90 per 100