Bows and Ribbon Wedding Invitations
Wedding invitations adorned with ribbons and bows are elegant and classy.
Choose from many modern colors and designs.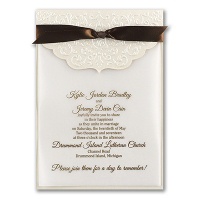 Ecru Whisper
Your invitation wording is on a translucent paper and wrapped with ecru shimmer and mocha satin ribbon.
$299.90 per 100
Wrap Surprise
Surprise your guests with this wrap invitation! The unique wrap invitation will stun your guests with a beautiful floral swirl design accented with a satin bow to reveal your invitation inside.
$299.90 per 100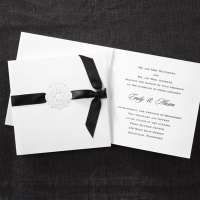 The Gift
A detailed round pearl design is centered on the front of this invitation with a black satin ribbon streaming through it.
$385.00 per 100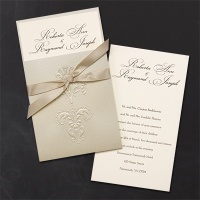 Embellished
An embossed flourish and a pretty ribbon are the perfect embellishments! The embossed, gold shimmer wrap surrounds an ecru inside card printed with wording as shown.
$389.00 per 100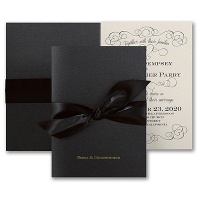 Midnight Passion
The wording "Together with their families", along with a lovely design, surrounds your wording on this ecru shimmer invitation and is enclosed with a black pocket wrap and satin ribbon.
$393.90 per 100