Monogram Wedding Invitations
These invitations with the bride's and groom's initials printed on the invitations are classy and elegant.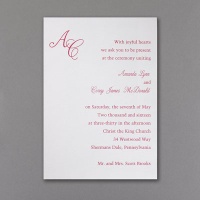 The Initial Look
Announce your wedding day with a monogram at the top of your invitation. Your choice of verse will be centered and framed with the border shown. The monogram, border and verse will match your choice of ink color. Format is only as shown and monogram will change with your choice of lettering style.
$114.90 per 100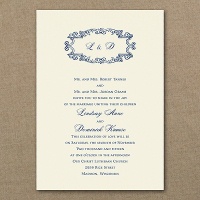 Monogram Swirls
Can't wait to show off that new monogram? Start with these ecru, monogram wedding invitations! Your initial is set amid swirls in your choice of color.
$116.90 per 100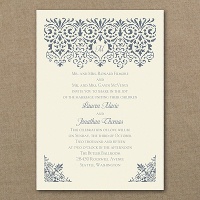 Damask Banner
Frame that new last name initial with a flourish! Choose the colors for your wording and the damask border, and this ecru, monogram wedding invitation is a statement of your great style.
$116.90 per 100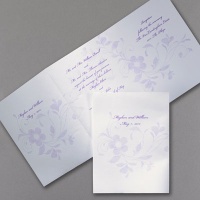 Initially Yours
The front of this bright white, z-fold invitation features a monogram with your initials surrounded by an elegant, filigree design. The invitation opens up to your wording on the left panel with an optional quote on the right.
$139.90 per 100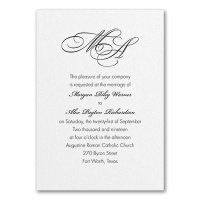 French Expressions
Say "oui" to the beautiful monogram design and your choice of trim option on this white shimmer wedding invitation.
$164.90 per 100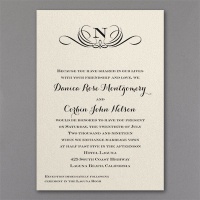 Preferential Design
Your monogram gets top placement on this simply elegant, ecru shimmer wedding invitation. Choose the color that shows your style.
$164.90 per 100
Love Grows
Even your monogram initials are blossoming with love on this shimmering wedding invitation! Choose the ink color to complete the look.
$172.90 per 100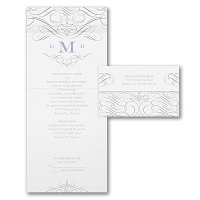 All Aswirl
Traditional gets modern in the calligraphy swirls around your monogram. You get to choose the colors for this seal 'n send wedding invitation.
$172.90 per 100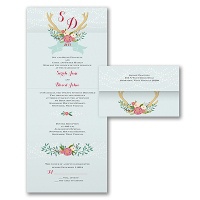 Antler Monogram
Oh, deer - the wedding is here! Show your romantic natural style with the antler and flower design on this seal 'n send wedding invitation.
$172.90 per 100