Monogram Wedding Invitations
These invitations with the bride's and groom's initials printed on the invitations are classy and elegant.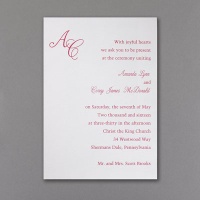 The Initial Look
Announce your wedding day with a monogram at the top of your invitation. Your choice of verse will be centered and framed with the border shown. The monogram, border and verse will match your choice of ink color. Format is only as shown and monogram will change with your choice of lettering style.
$114.90 per 100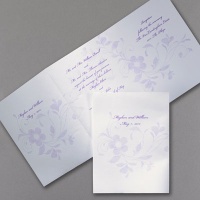 Initially Yours
The front of this bright white, z-fold invitation features a monogram with your initials surrounded by an elegant, filigree design. The invitation opens up to your wording on the left panel with an optional quote on the right.
$139.90 per 100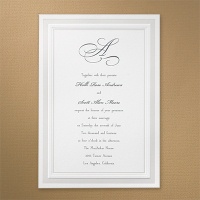 Enchanting Borders
Enchanting, breath-taking, beautiful…just a few words to describe this invitation with elegant, embossed and pearlized borders. Your choice of monogram is placed at the top of the invitation adding an additional touch of class.
$177.90 per 100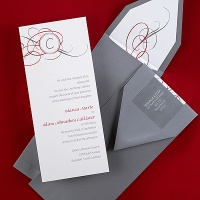 Sophisticated
A sophisticated swirl design showcases a on this shimmer tea-length invitation.
$178.90 per 100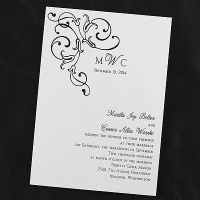 Shimmery Radiance
This white shimmery invitation has a monogram and date listed at the top with your wedding information formatted below.
$189.90 per 100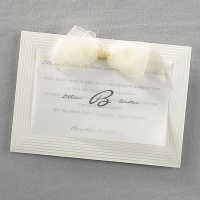 Cascading Ecru Invitations
A layered look is created starting with an ecru base card featuring a cascading raised border with your wedding verse printed in the center. A printed translucent overlay with your monogram is attached with an ecru chiffon or satin bow. Matching enclosures are sold separately.
$224.90 per 100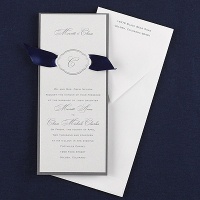 Appealing Elegance
This shimmery invitation has your names listed at the top with your monogram initial in a circle below. A ribbon of your choice is attached to the base card.
$259.90 per 100
Golden Style
This golden invite features a golden wrap with a filigree design! The tea-length, ecru invitation card has the bride and groom's three initials and the wedding date printed on the right hand side with the rest of your wording placed on the left side under the wrap.
$279.90 per 100