Modern Wedding Invitations
Why go with boring and antiquated wedding invitations? Choose from the bold and sophisticated designs and colors we have to offer - The trend nowadays is vivid and eye-catching wedding cards.
Shimmering Swirls
Make a statement to your guests with these shimmering ecru invitations. The front features an abundance of debossed swirls with your names featured at the right.
$192.90 per 100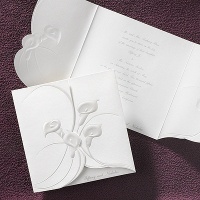 Ultimate Calla Lilies
A white, gate-fold invitation features an embossed, pearl, calla lily design.
$254.00 per 100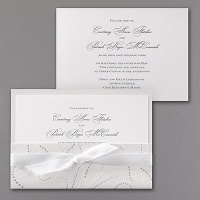 Shimmer Vines
Create a layered invitation with this bright white card tucked inside an elegant, pearl, shimmer pocket wrap tied with a white satin ribbon.
$287.90 per 100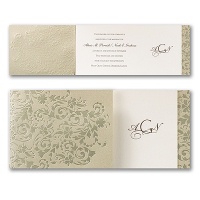 Golden Style
This golden invite features a golden wrap with a filigree design! The tea-length, ecru invitation card has the bride and groom's three initials and the wedding date printed on the right hand side with the rest of your wording placed on the left side under the wrap.
$291.90 per 100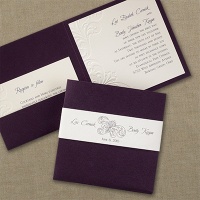 Raisin Flourish
A raisin pocket features your invitation and a place to put your enclosure cards.
$350.00 per 100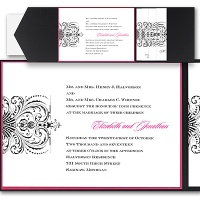 Avant
This invitation is perfect for the couple wanting an elegant look for their wedding. Make it unique with a backer card and pocket.
$369.90 per 100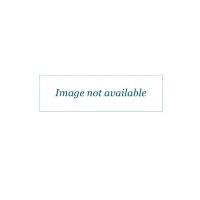 Charming Type
Charm family and friends with an invitation that keeps things simple. Your names become the design of this card. Pick a backer and pocket to make it complete.
$369.90 per 100